Oceanomare Delphis is a nonprofit organization dedicated to the conservation of cetaceans in the Mediterranean Sea.
We collect data on the behavioral ecology and acoustics of cetaceans; our archive contains information on their movements in the environment, group size and composition, photo-identification, behavior, and acoustics.

We publish the results of our work through conference proceedings and specialized national and international journals and produce technical and scientific reports commissioned by international associations.

Oceanomare Delphis accompanies scientific research in the field, priority objectives such as education and conservation, aggregates organizations, groups, and individuals linked by a common interest in cetaceans and the marine environment, to influence institutions to take concrete actions against the extinction and destruction of natural ecosystems caused by humans.
MMO and PAM
Dal 2015 Oceanomare Delphis collabora con CIBRA (Centro Interdisciplinare di Bioacustica e Ricerca Ambientale) per lo sviluppo di piani di monitoraggio e mitigazione dei mammiferi marini, campionamenti in mare e reportistica in relazione ai piani presentati.
ACCOBAMS PARTNER
Dal 2016, Oceanomare Delphis è partner di ACCOBAMS, l'Accordo per la Conservazione dei Cetacei nel Mar Nero, il Mar Mediterraneo e la contigua area Atlantica.
Our Story
The history of our association begins in 1991. After participating in the first surveys in the Italian seas conducted by the Tethys Institute in collaboration with the sailing association I Venturieri, Barbara Mussi, owner of the schooner Barbarian, decided to make the island of Ischia her base to undertake a study of cetaceans in the islands of the Pontine and Campanian archipelagos. The area had never been the subject of systematic research on marine mammals but had been noted for its particular biodiversity.
The research began with data collection involving ferries, cargo ships, fishing boats, and Coast Guard and Finance patrol boats. The data were patchy but confirmed the winter presence of cetaceans in the study area.
At the same time, under the oversight of the skipper Angelo Miragliuolo, at-sea monitoring began using Barbarian, equipped since 1995 with a hydrophone system.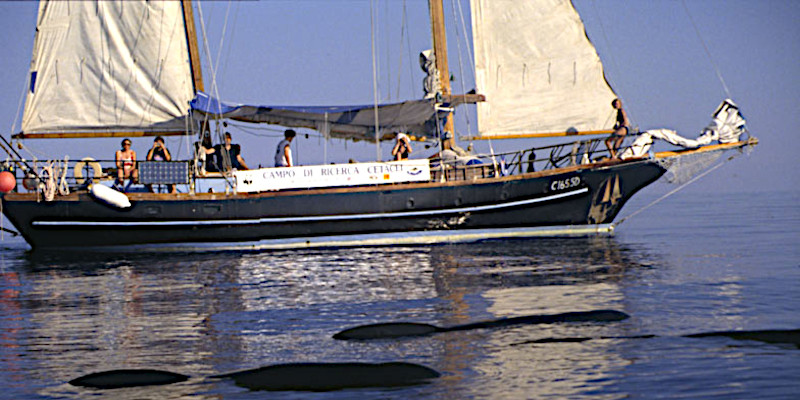 I primi anni di osservazioni hanno permesso di stabilire la ricca varietà di cetacei nell'area di studio, confermando la presenza di sette specie diverse. Nel 1997 è cominciato nelle acque di Ischia lo studio della popolazione locale del raro common dolphin (Delphinus delphis).
Nel dicembre 1999, l'affondamento di Barbarian, a causa di una violenta tempesta che ha distrutto l'intero porto, ha causato un brusco arresto del progetto, che ha subito anche la perdita dei dati e della strumentazione di bordo. Nel marzo 2000, Angelo Miragliuolo e Barbara Mussi sono riusciti ad acquistare una nuova barca a vela, Jean Gab, per rinnovarla e attrezzarla per la ricerca.
The following year, thanks to the strong motivation of Katia Massaro, who embraced the project's cause, Delphis Mediterranean Dolphin Conservation, a nonprofit organization dedicated to cetacean conservation through research and outreach, was founded.
Delphis has supported the study over the years and has succeeded in spreading the mission throughout the territory through the creation of a Cetacean Museum and educational events such as the annual Dolphin Festival.
Oceanomare Delphis Onlus
Sharing visions, actions and people involved, Delphis MDC and Oceanomare decided in 2010 to join forces and create a new, larger organization. Thus was born Oceanomare-Delphis Onlus (ODO) a nonprofit organization that works to study and protect cetaceans and the ecosystems in which they live, through actions of knowledge, conservation and information.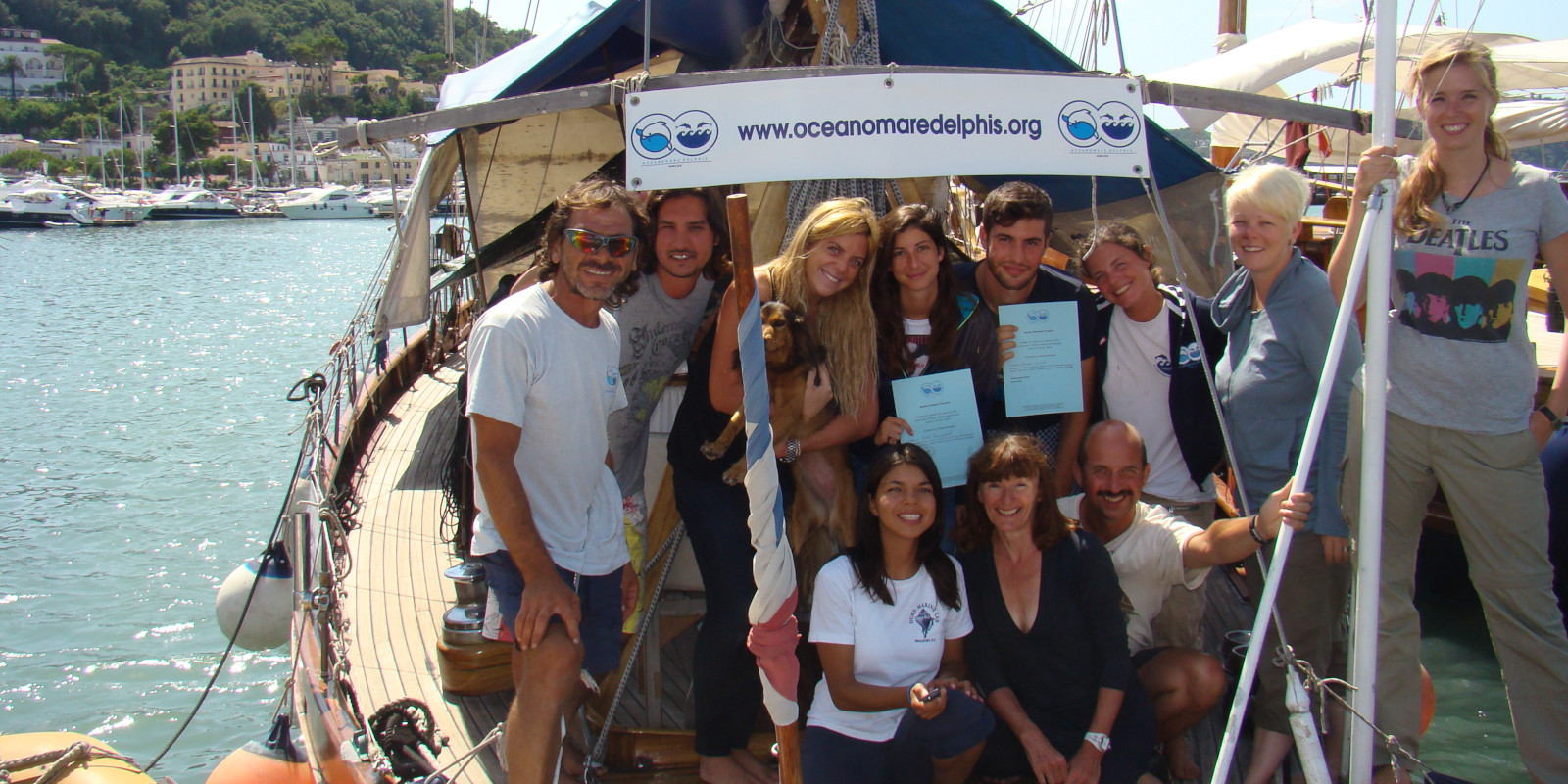 We believe it is necessary to bring together ideas, skills, and experience to achieve common goals to meet the present and future challenges affecting cetacean knowledge and conservation.