Jean Gab, cutter 1930
Jean Gab is an oceanic oak cutter built in Marseille in 1930 by France's most famous naval architect, André Mauric.
André Mauric designed the French sailing boats for America's Cup (France I and France II) and signed Pen Duick IV, used by famous French sailor Eric Tabarly for the Whitbread Cup. Jean Gab is Mauric's first large sailing ship, built to race and cruise all oceans. She is a fast boat with beautiful water lines, stable even in rough seas. The vessel is therefore designed for fast offshore sailing, and all, exterior and interior, primarily reflect this purpose.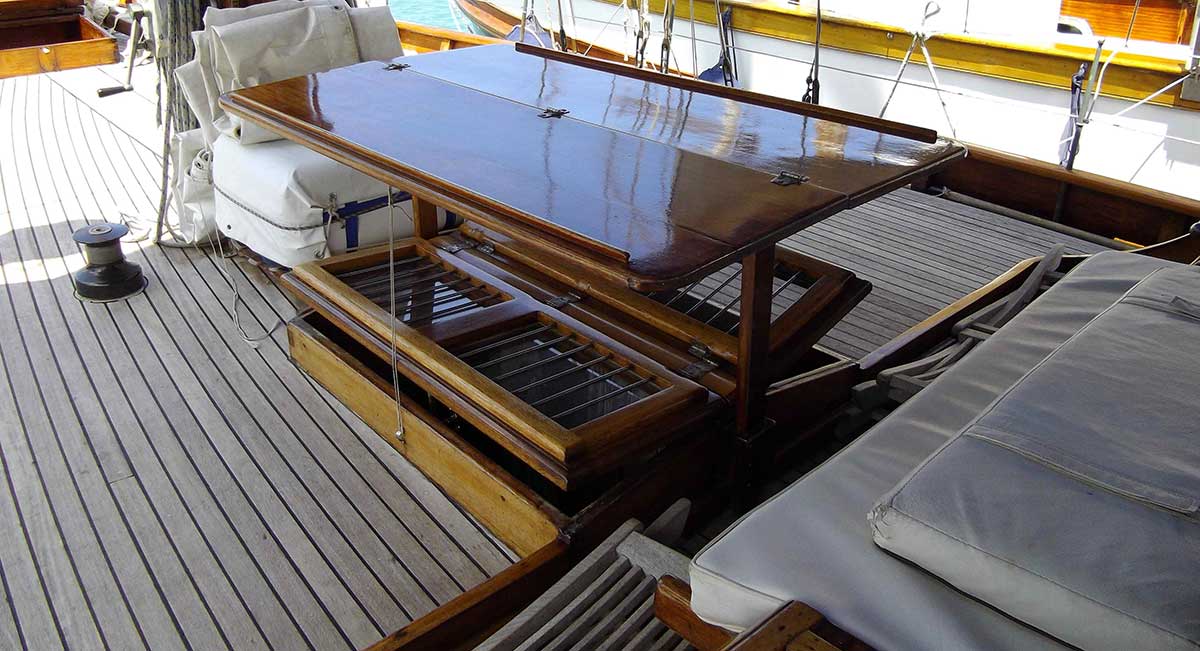 The exteriors are large and spacious to leave room for sailing maneuvers; the interiors are small, cozy, and spartan, designed to protect the crew from the force of the billows. Jean Gab is 17.70 m long, 4.45 m wide, and 2.50 deep.
While sailing, you live outside on the deck.
In the center of the boat, at the foot of the mainmast, is the outdoor lounge with a table. We have lunch and dinner on Jean Gab's outside table in our private lounge under the stars.
The Interior
consists of a large galley with a table and windows. Here we cook, stow provisions, and, when it rains, eat meals. The table serves as a chart table while sailing, and the small living room welcomes us to chat in our free time.
Descending into Jean Gab's "womb" you will arrive at the sleeping area for six participants of both sexes, (2 single bunks and 2 double bunks). In August, when the boat is often full, you may be asked to share the double bunks with a participant of the same sex; if you happen to be on an uncrowded shift, however, you can have the entire space at your disposal.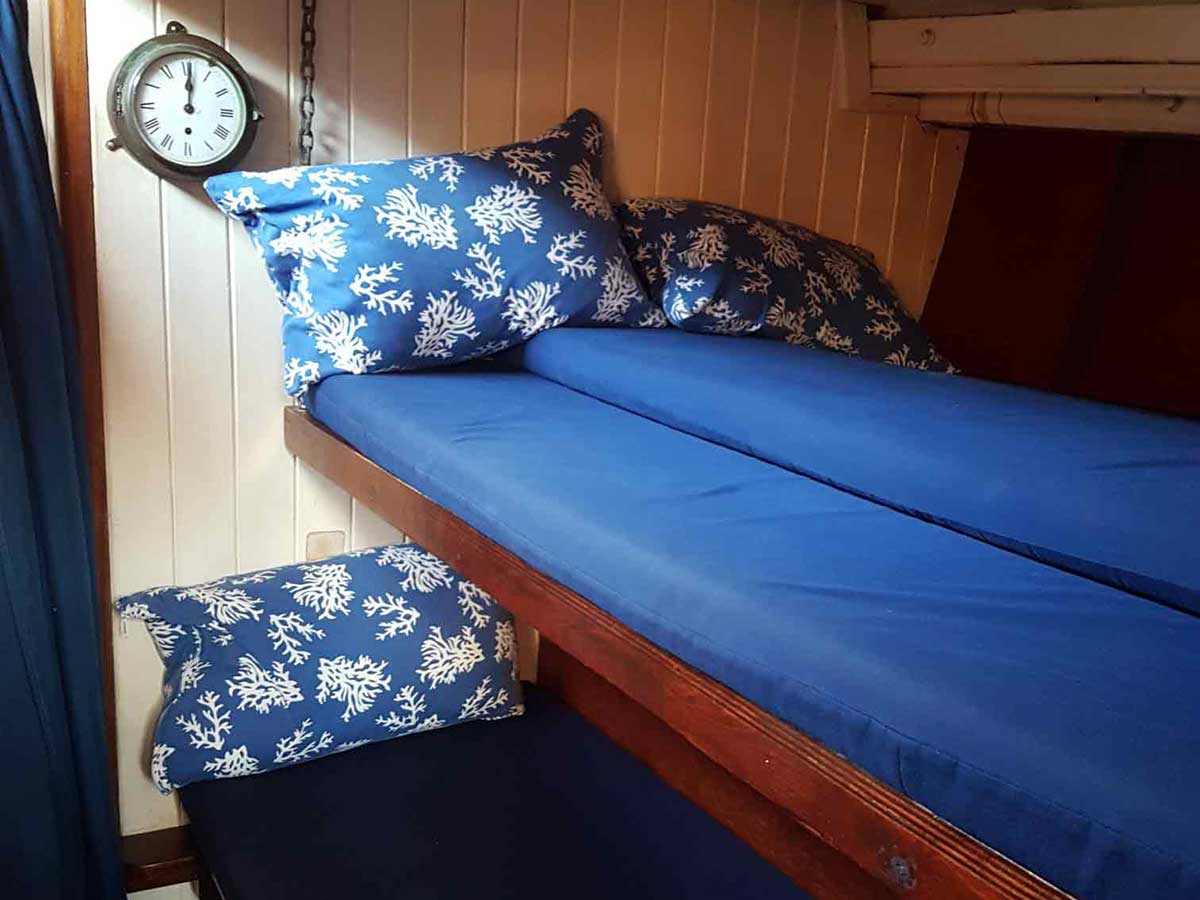 We remind you that living aboard sailboats like Jean Gab is a choice: eco-friendly, simple, communal lifestyle, conservation of resources and energy.
There is no privacy on board, not even behind cabin bulkheads; nevertheless, the boat size is anything but restricted; the sea and sky will offer you endless horizons, and every sighting turn will give you a chance to savor the peace of sailing.
Year of construction: 1930

Length: overall : 17.70 m Deck: 16 m
Width: 4,45 m
Sail area: 160 sq m
Draft: 2,50 m
Gross tonnage: 22.95 tons
Engine: Iveco Aifo 145 HP diesel
Sails: mainsail, staysail, jib, gennaker

Shipyard: Grossi, Marseille. Oak and mahogany planking, oak and elm ribs, Oregon pine deck.

Marshal inflatable boat 4.5m. Johnson 25 hp outboard. Hydraulic Star Pilot autopilot. NKE (lochspeedo) navigation center. Penn Lann anemometer. MagellanNav 1200 GPS. Sailor VHF.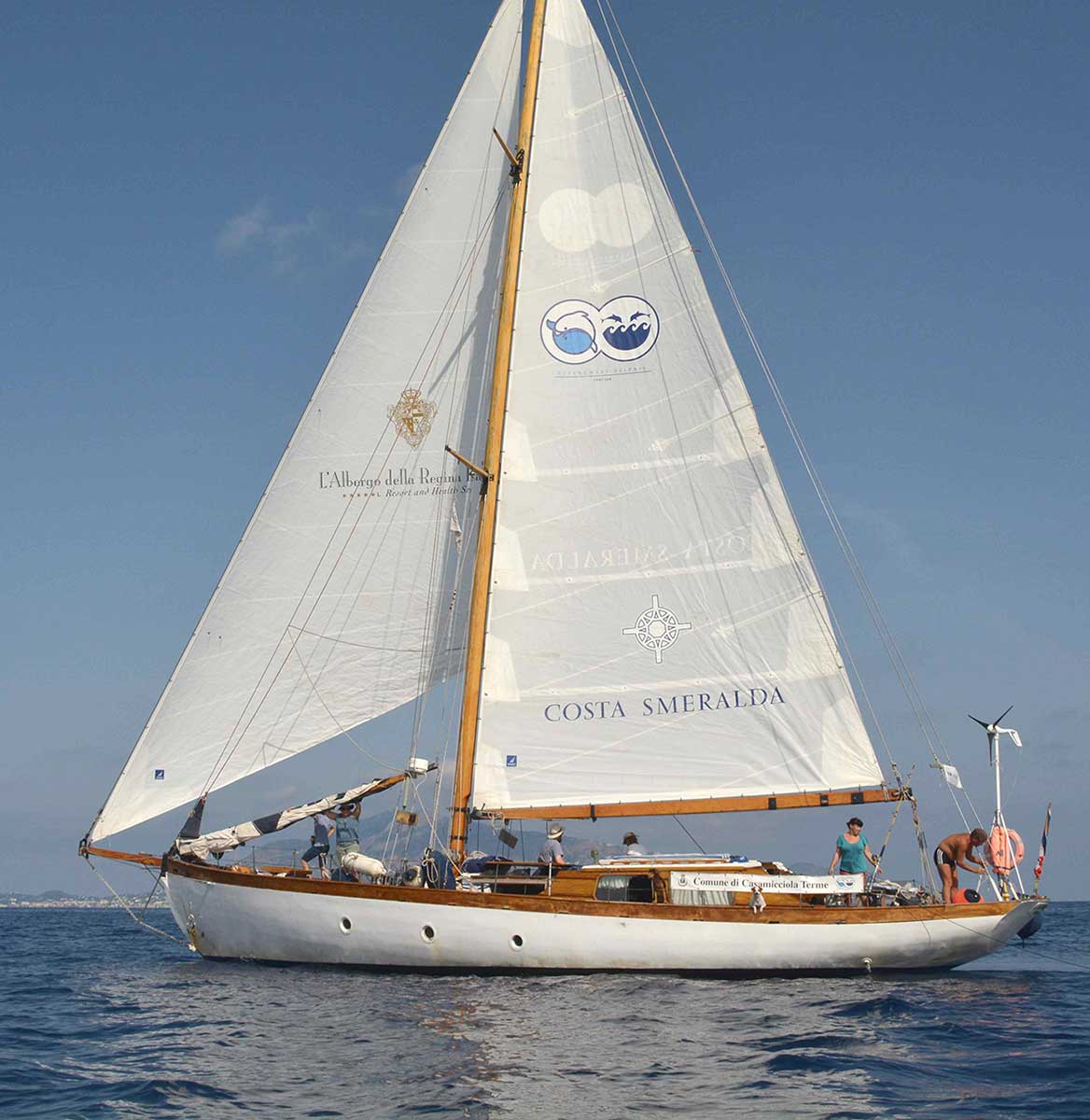 Historical
Jean Gabriel Daragnès (1889-1950) was a publisher and printer in Paris, but equally a painter-illustrator and engraver.
As an artist, his career began as a painter, but he soon trained in the art of engraving. His works testify to his love for the book as a whole. Not only did he illustrate his books, but he was also a master printer and bibliophile.
He gathered a circle of friends that included writers such as Colette, Carco, Valéry, Mac Orlan, Celine, and Giraudoux and artists including Galanis, Bofa, Dufy, Gen Paul, Falké, and publisher Emile Paul. They met every Saturday in Montmartre, in Daragnès' atelier, where all new joint projects and works took shape.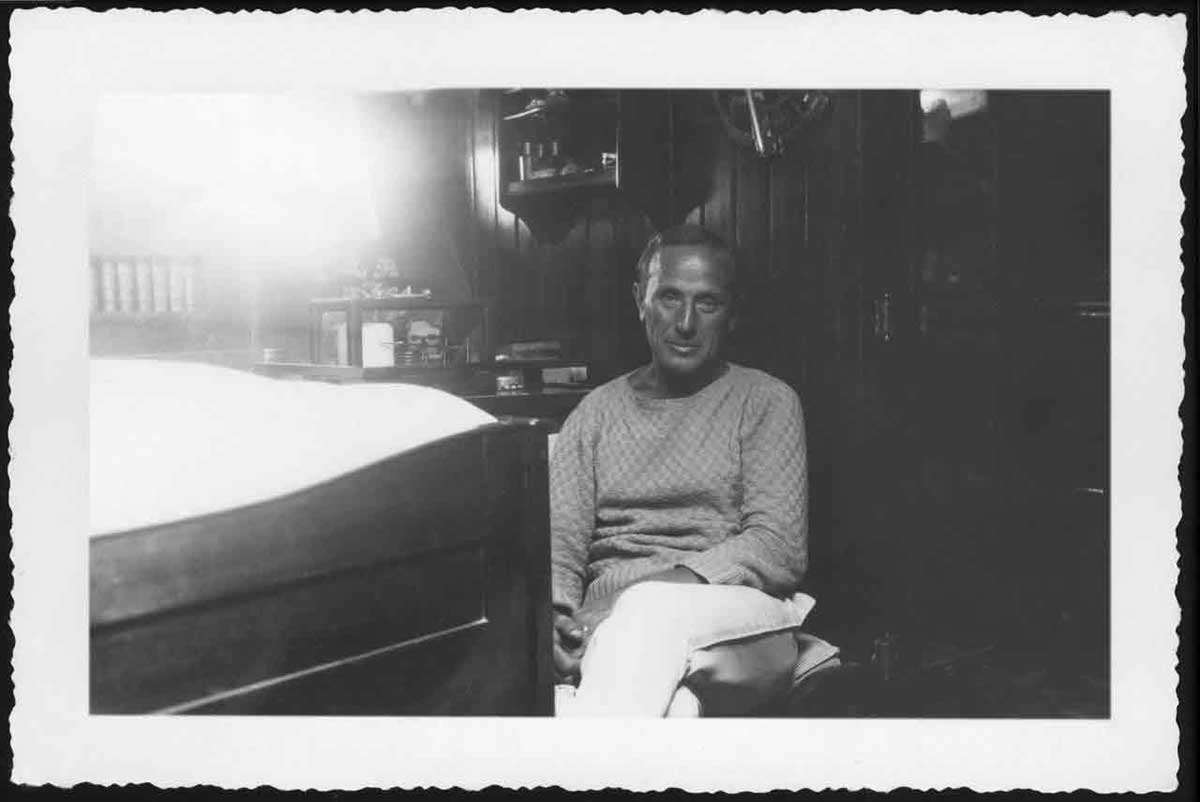 We were contacted by the Meunier Daragnès family, heirs of Jean Gabriel Daragnès, the first owner of Jean Gab.

In particular, we were contacted by Pierre Meunier, who donated these beautiful images of Jean Gab dating back to the construction and the early years of sailing.

Pierre's grandmother, Jeannine Daragnès, married Jean Gabriel in her third marriage; Jeannine's first marriage was to a Meunier, and from this marriage was born Paul Meunier, Pierre's father.

Today Pierre and his sister are probably the only heirs of Jean Gabriel Daragnès; Pierre writes that he does not know if there are any other family members left in Bordeaux, where Jean Gabriel was born. Pierre today lives in Spain, in Barcelona.